Port Douglas Beach House
Luxurious Port Douglas Beach House Holiday Accommodation
When you yearn for a soulful stroll along the beach with the surf breaking at your feet, the sun kissing your skin and the breeze playing through your hair, then Pineapple Pete's is the perfect Port Douglas beach house to satisfy the yearning. You will not only holiday in the lap of luxurious beach accommodation in Port Douglas but also fall into a peaceful sleep every night after a relaxing day at the beach.
For the best Port Douglas beach accommodation, Pineapple Pete's Beach House wants for nothing. With top quality luxurious fittings and finishes and fully equipped with anything you could need for a comfortable, relaxing holiday for yourself and your family. For ease with the little ones of the family, we have two portable cots with linen, and one bassinet for baby's as well as baby bjorn, two prams and high chairs, for easy meals and even a tee pee to play in, with lots of toys and games.
A Perfectly Balanced Port Douglas Beach Villa
Offering the perfect balance between sophistication, laid back living and luxury appliances, its eclectic soul gives this villa an exquisitely relaxed and comfortable vibe in bohemian style. With a mere three-minute walk to Four Mile Beach, you can dip your toes in no time! Should the luxurious peacefulness become a bit too quiet, social bliss is just a four-minute drive to town.
This glorious beach villa in Port Douglas offers four beautifully spacious bedrooms. There is the main bedroom with a king-size bed, walk-in wardrobe and private bathroom. The second main bedroom offers a queen-sized bed and private bathroom, and a quaint outdoor bathroom within a private sunny courtyard. The second king room offers a king-sized bed that can easily be converted to two single beds and opens onto the pool deck. The small bedroom is the perfect kiddies haven with two single beds that can, of course, be changed into a king-size bed if space is needed for a couple instead. This little haven looks onto a little secret hideaway garden. Some of the other luxuriously comfortable features at Pineapple Pete's Beach House include:
The Master has a Smart TV with Internet, the 2nd Master and 2nd King have a TV without internet.
The well-lit kitchen has everything and anything you could think of to possibly want and need in a kitchen for a soulful beach home holiday with your family.
Where it comes to the outdoors, there are barbecue facilities, beach and pool toys and games, outdoor games with a heated swimming pool to boot.
Naturally, there is no shortage of decks around the house. There is the front deck where you can touch on being social and neighbourly if you like. The back decks are just the outside of the inside lounge. Here you can have some family time around a larger dinner table or get going with the barbecue that will undoubtedly lead to lots of fun with outdoor and pool games. There is, of course, also a pool deck for all the lounging in the sun business. Quite possibly, you will not find a better Port Douglas accommodation house than Pineapple Pete's Beach House.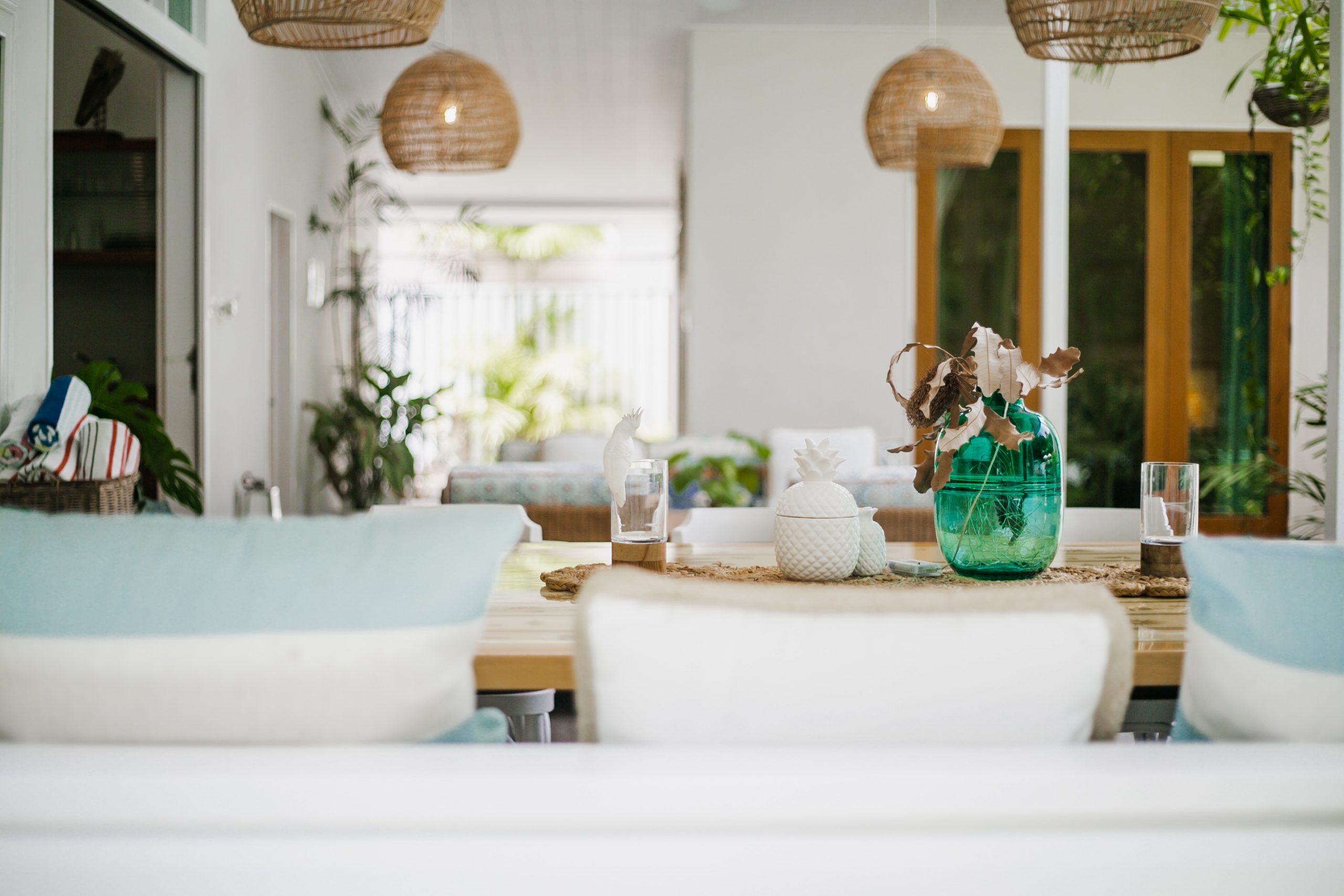 Outdoor Adventures on the Coral Sea
Based on the Coral Sea in the tropical far north of Queensland, you are just a splash away from the Great Barrier Reef and close to the Daintree National Park. There are many boutique shops on Macrossan Street for our shopaholics and a host of restaurants to explore. There is a myriad of outdoor adventures to explore on land and in the sea.
Daintree Rainforest is one of the oldest rainforests in the world. You can enjoy a tour of the Daintree Rainforest and Mossman Gorge.
You can scuba-dive the Great Barrier Reef or enjoy a luxurious cruise on the outer Great Barrier Reef with some fun snorkelling in between.
The Best Beach House in Port Douglas
Don't delay another day! Book your luxurious bohemian style beach holiday at Pineapple Pete's Beach Home today!