Luxury Accommodation Port Douglas
Our Luxury Accommodation Port Douglas
Our luxury accommodation in Port Douglas is only a three-minute walk from Four Mile beach or a four-minute drive to Port Douglas itself. The whole house has all the equipment necessary for your stay and is ideal for any living you prefer. From a coastal beach lifestyle to a sophisticated style, this house will suit all your needs and more.
What You Can Expect from Our Port Douglas Luxury Accommodation
Our Port Douglas luxury escapes include four bedrooms with all the necessary furniture, a kitchen, living room, dining room, laundry room, and a fantastic outdoor area. Here are what else you can expect:
The master bedroom comes with an en suite bathroom, a walk-in robe and its deck. It has a king-size bed, air conditioning, along with a ceiling fan. In addition, the room comes with a 40-inch TV for entertainment and an area for reading; the master bedroom has a view of the entire pool and garden area.
The best room for the cooks is our kitchen. Full of all the cooking essentials, the kitchen has a lot of space to move around and countertops. It has a Smeg six-burner gas stove with an extra-wide oven along with a Smeg toaster and Smeg kettle. In addition, it has a Sunbeam Café Series with a grinder for coffee lovers and a giant family size freezer and fridge for all your food and favourite snacks.
There is a dedicated bar area that includes two mini wine fridge's and all the amenities to make cocktails. The brainchild of creative duo Sofia and Peter Gonsalves – MadHaus Interior Productions – this house has been designed and laid out to inspire complete relaxation and creature comfort – you will never want to leave!
The lounge and dining area are the perfect rooms for a big family. With comfortable seats for up to ten people, you can quickly bring the whole family together for dinner or game night. The lounge has a 50-inch Smart TV for entertainment—a Bluetooth Bose speaker for maximum sound and loads of books to entertain the whole family.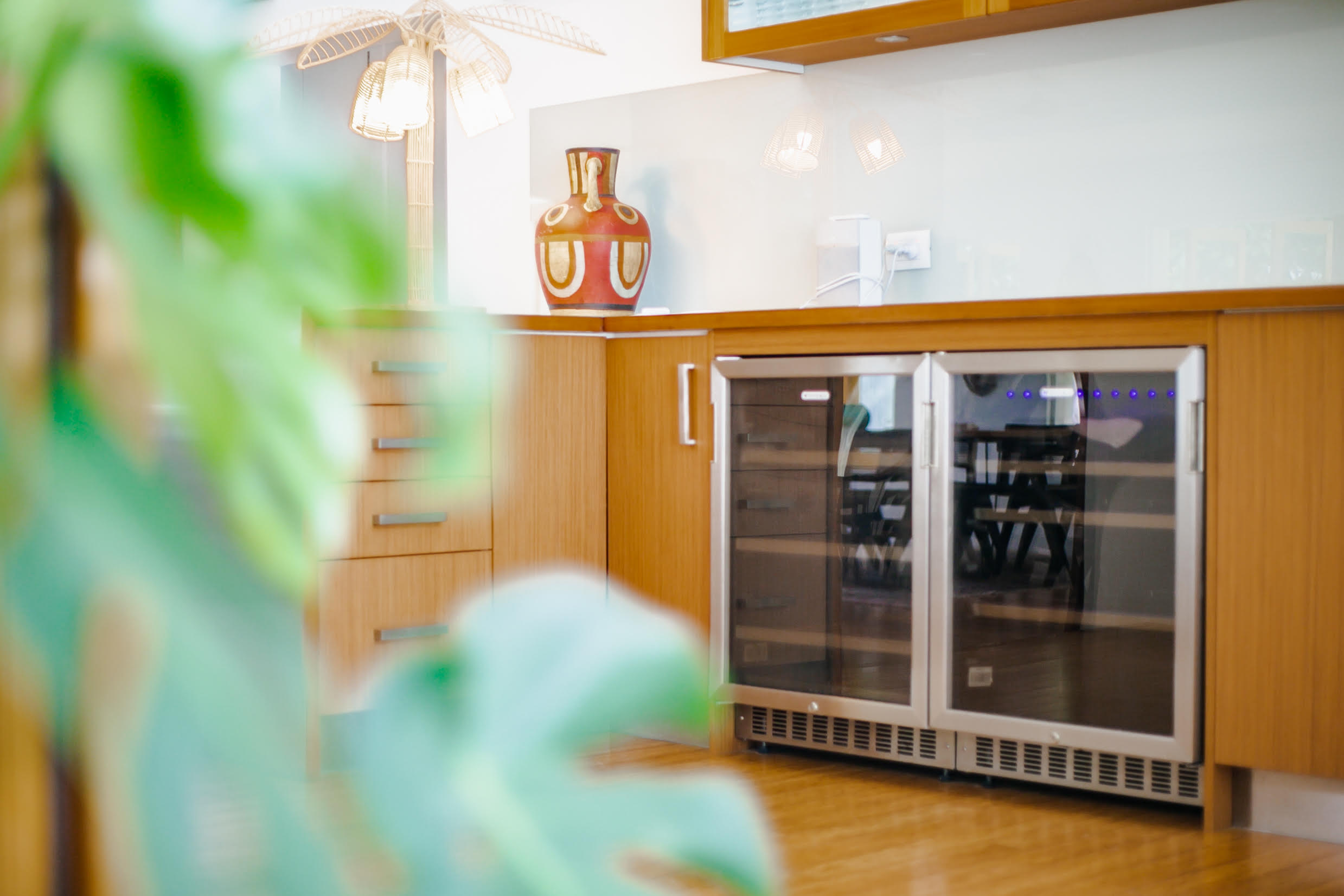 Key Features of Our Luxury Holiday Accommodation Port Douglas
Our luxury escapes in Port Douglas does not only include the furniture for your stay. It contains numerous other features such as linen and even hairdryers for your visit. We ensure this will be the best experience.
The entire house has air conditioning. In Australia, we understand how hot it can become and along with our heat, we get a lot of humidity in the coastal areas, which requires frequent cooling indoors to prevent heatstroke. Therefore, air control indoors is significant to us as it benefits your health and safety.
The entire house has internet access. Today the internet has become the one thing that everybody needs, a necessity if you will. For this reason, we include Wi-Fi over the entire property, along with that Netflix for entertainment if you don't like the DVDs.
As we mentioned, we provide the linen, too, including Egyptian cotton/bamboo linen and towels. We have designer bedding in all the bedrooms and beach towels. Our furniture is high quality and our appliances top range.
Why Trust Pineapple Pete's Beach House
This Port Douglas luxury holiday house is the ideal destination for any family gathering, holiday getaway, or event. We provide the best appliances and furniture inside this home. We ensure your stay will be warm and welcoming while you relax with your family.
The ideal beach break for you and your family starts inside this home! There is plenty of room for your entire family, bring everybody with you, even the grandparents. Contact us today to check availability, we would love to hear from you.